Start Your Free Online Quote Today
Beautifully Crafted Sash Horn Windows
Liniar uPVC sash horn windows are a superb choice for homes in Hayes, Reading, Watford and the surrounding areas, particularly if you are looking for an authentic replacement window. They are precision engineered for quality and performance, and will enhance your home in countless ways.
The stylish sash horn window is an elegant and traditional British design, ideal for period properties and heritage homes, it is also a superb choice for adding character to modern homes. It has a beautiful finish with stylish curves and very often, Georgian bars.
The stunning Liniar design perfectly replicates the traditional elegant lines and curves of original sash horn windows, enabling you to access a stunning replacement for your old period windows. These windows can be expertly tailored to suit all property styles.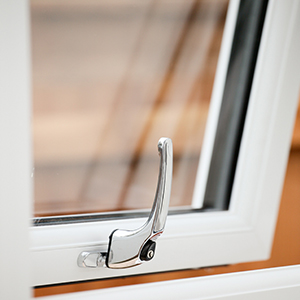 Impressive Security
The Liniar profile is state of the art. It has hidden strengthening technology which makes it super tough and robust. These windows are almost unbreakable thanks to this innovative design. Once this is enhanced with high performance multipoint locking mechanisms, you will be able to enjoy complete peace of mind that your home and family are safe and secure. Liniar uPVC sash horn windows are a brilliant choice for secure double glazing. We make it easy for you to enjoy complete peace of mind with our high performance, stylish sash horn windows in the Hayes area. This means you'll be able to enjoy the best the industry has to offer.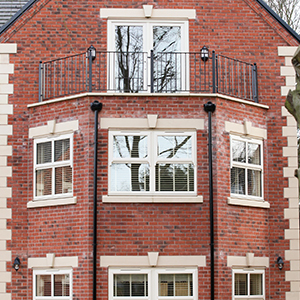 Thermally Efficient
Our sash horn windows in Hayes, Reading and Watford are incredibly energy efficient. They have been precision engineered using the innovative Liniar design. This incorporates a multi-chambered profile, thermal dam and bubble gaskets, all of which work together to maximise thermal performance. This excellent design is especially robust protecting your home from the elements. Our sash horn windows are able to withstand even the worst winter storms, keeping you cosy and dry. These impressive windows are capable of the highest Windows Energy Ratings and could even make your home more cost effective, by saving you money on your energy bills.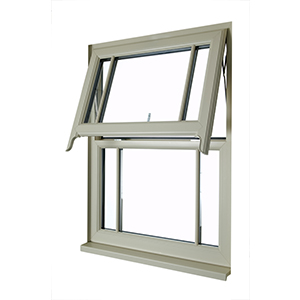 Environmentally Kind
Our uPVC sash horn windows are ideal for the environmentally concerned property owner in Hayes, Reading, Watford and surrounding areas. Achieving an excellent eco-friendly performance, they are completely recyclable and totally lead free, as well as being manufactured with sustainability in mind. The outstanding thermal performance will help to lower your carbon footprint too, releasing fewer emissions into the atmosphere and enabling you to use less energy to heat your home. With these double glazed windows, you can be confident that your new home improvements will be kind to the environment, throughout.
Low Maintenance
We chose to work with the Liniar range of uPVC double glazing for many reasons, however, one priority was the quality. These sash horn windows are a superior choice for low maintenance and durable double glazing. They are specifically designed to require a minimal cleaning routine to keep them in perfect condition year after year, and they are so exceptional, they even come with a ten year manufacturer's guarantee so you can be confident that they will last the test of time.
Colour Choices and Finishes
Every property is different, and with the stunning Liniar collection of uPVC windows, you will benefit from a wealth of options to complement your personal style and your property's architecture. Our sash horn windows can be finished in a number of colours or natural woodgrain foils giving you a stylish look. You can opt for a range of replica features to complete the look, as well as a choice of glazing options including opaque glass for additional privacy. Every detail of your new double glazed sash windows is down to you.
Sash Horn Windows in Hayes – Key Features
Products tested to meet the performance requirements of BS7412 wind and water testing – classification severe
Fully integrated horns run through as a continuation of the sash frame for authenticity
70mm frame depth allows maximum flexibility for fabricators and clients alike
Products enable compliance with latest building regulations
Products tested to meet latest security standards of BS7950
Products designed to accept the latest hardware types
uPVC screw ports allow secure fixing of hardware
Internally beaded and externally beaded options
Glazing options up to 28mm sealed unit depth


---
Sash Horn Window Prices in Hayes
Our sash horn windows prices in Hayes, Reading, Watford and the surrounding areas are superb, offering the combination of exceptional quality with outstanding value for money. You won't have to settle for less.
Please visit our online calculation system to design your perfect sash horn windows and find out the costs. You can also contact us and our friendly team will be happy to help with your Hayes home improvements.
Start Your uPVC Window Quote