Start Your Free Online Quote Today
Open-Up Your Watford Home with Our Bi-Fold Doors
Price-Rite is the go-to specialist in bi-fold doors. We offer our Watford customers market-leading uPVC and aluminium bi-fold doors which have been expertly manufactured to add market appeal and many benefits to your Watford home. Explore our exceptional range of double glazing products by contacting the Price-Rite team today.
uPVC Bi-Fold Doors
Manufactured from Modern Materials
Our uPVC Bi-Folding Doors have been manufactured using modern materials and the latest technology to offer the Watford homeowner a product that offers functionality alongside an excellent look. With our bi-fold doors, you can seamlessly connect your home and garden to create a new expanded living space that you and your family can enjoy year-round. Whether that be opening the doors to feel the warm summer breeze or enjoying the panoramic views of your garden from indoors on a winter day, your new bi-fold doors will enhance the value and look of any Watford home they are installed into.
Thermally Efficient
Thanks to the uPVC profile we use, the Watford homeowner will benefit from an excellent level of thermal efficiency. The Watford weather can be unpredictable at times which is why we have tested our doors to give your home the best performance. The energy efficient glazing works in tandem with the frame profile to improve the heat retention of your home. By trapping pockets of air between the glazing panes and within the multi-chambered profile, a thermal barrier is created that prevents cold from entering your home and keeps the warm air inside. By keeping your Watford home warmer for longer, you'll find that your heating system becomes more efficient. Over time, your reliance on your central heating will drop, reducing your heating bills and your carbon footprint.
Securing Your Property
By getting a new bi-fold door installed in your Watford home from Price-Rite, you won't be compromising the current security of your home, but you will enhance it. Our uPVC bi-fold doors have been manufactured to be resilient against unwanted visitors. We fit high-security locks into our doors as standard, securing your Watford home. The double glazed anes can be upgraded to triple glazing, creating a further barrier against burglars.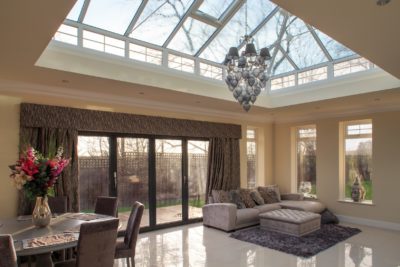 Safety for Your Home
We fit our aluminium bi-fold doors and uPVC bi-fold doors with the latest in secure technology. As the Watford homeowner, you can have complete peace of mind that your family and your home is secure.
Energy Efficient
The profile we use in both our bi-folding door styles has been manufactured to give the Watford homeowner the best in thermal efficiency. With heat retained in your home for longer, you could start saving money!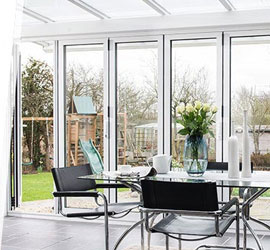 Panoramic Views
Walls can literally be opened up to your garden or the outside in seconds. Our bi-fold doors will give you excellent views of your Watford garden, so even if it is cold outside, you can enjoy watching the wildlife from the warmth and comfort of indoors.
Aluminium Bi-Fold Doors
Our aluminium bi-fold doors offer many of the benefits to your Watford home as a uPVC Bi-Fold door, but the stronger material we use enhances the benefits. In terms of thermal efficiency, our customers can choose between a 28mm double glazing pane or a 36/40mm triple glazing pane to get a realistic U-value of 1.2W/m2K.
A Space Saving Solution
Our Aluminium Bi-Folding doors are a space-saving solution for the Watford homeowner. If you are lacking space in your home, then these doors could be the answer. The door runs along a vertical track and will only slightly overlap into your living area because it folds into a concertina shape. This means that you can still place furniture and objects nearer to the threshold.
Lasting Quality
Aluminium is a strong material and unlike timber or steel, its quality won't be affected when exposed to extreme weather conditions. Our aluminium bi-fold doors won't flake, warp or corrode, allowing our Watford customers to enjoy the benefits of a product that will last for many decades, providing a great investment to the homeowner.
Customisable to Your Home
We allow our Watford customers to make the right choices when choosing their bi-fold doors. Our bi-fold doors can be made up to seven panes wide, so you can choose how much or how little light you want to flood into your home. Customers can choose from double or triple glazing within the door as well as a range of authentic RAL powder finishes, colours and woodgrain finish to provide a truly bespoke door.
These doors can be further customised to improve access for your family and guests. Our aluminium bi-fold doors can open to almost the width of your Watford home and collapses to the side in neat panels to provide unobstructed views of the garden. Should you need to, your bi-fold door can be made more effective at allowing people to come and go. We offer five different threshold options, so if you want to ensure that everyone can cross your threshold, you can choose that 23.5m option that is Part M compliant.
Bi-Folding Door Prices Watford
If you're looking to get a bi-folding door at a competitive price for your Watford home, then get in contact today. At Price-Rite, we are happy to offer our Watford customers the very best double glazing products at affordable prices.
As experts in double glazing, we are more than happy to share our know-how. For more information on our uPVC or aluminium bi-folding doors, then get in touch today through our online contact form.
If you already know what type of bi-fold door you want and in what colour, why not use our online quoting engine to design your bi-fold doors and receive a bespoke quote in just a couple of minutes.
---