Start Your Free Online Quote Today
Seamless Connection To the Outdoors
Aluminium sliding patio doors are one of the most popular back door options for many homeowners in Richmond and the surrounding areas. This is because of their fantastic space-saving qualities as well as thermal performance and security. However, these still look inviting and beautiful, adding an extra layer of visual appeal. Our aluminium sliding doors can provide a seamless connection to your garden space without needing a full swing arc like other installations available on the market.
This means that you can furnish the inside and outside of your home without having to worry about the space around the door. Reach out to us today if this sounds like an appealing double glazed installation for your Richmond home.
Natural Light
As these sliding patio doors are made out of premium grade aluminium, they can allow for thinner frames without compromising on the thermal performance and security. With slimmer sightlines comes more exposure to natural light. This means that your room will become a brighter and more inviting space. It can even give the illusion of even more space too! If it is a hot day, open our aluminium sliding doors and ventilate your home.
Secure Aluminium Sliding Doors
Another fantastic benefit that comes from our aluminium patio doors is the fact that you can secure your home while still enjoying the views of your outside space. No one wants to even consider the possibility of an unwanted guest gaining entry unlawfully into your home. That is why we take security very seriously with these aluminium sliding doors.
Featuring an advanced locking mechanism as standard, our aluminium sliding doors will be sure to keep you and your family safe. The material is lightweight but incredibly durable, which will also act as another layer of security. The glazing featured will be reinforced to ensure the safety of those who use it as well as keeping potential intruders out. You can even up this by opting for triple glazing instead of the standard double glazing.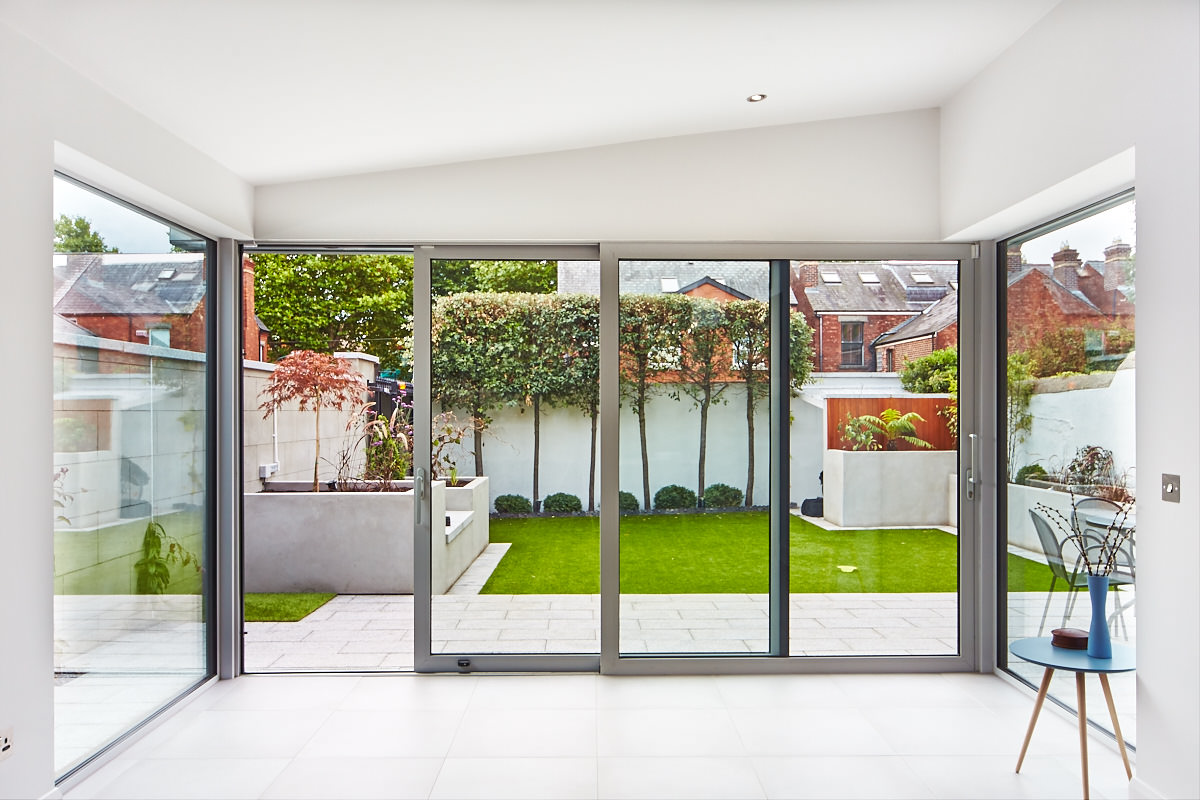 Beautiful Design
Our aluminium sliding doors boast incredible aesthetics that are sure to wow your guests. These installations will transform the way you live, helping you to connect more with nature and encouraging you to spend more time outside in the fresh air. Often with modern living, we can get caught up in the business of our lives, these patio doors will remind you sometimes to stop and smell the roses.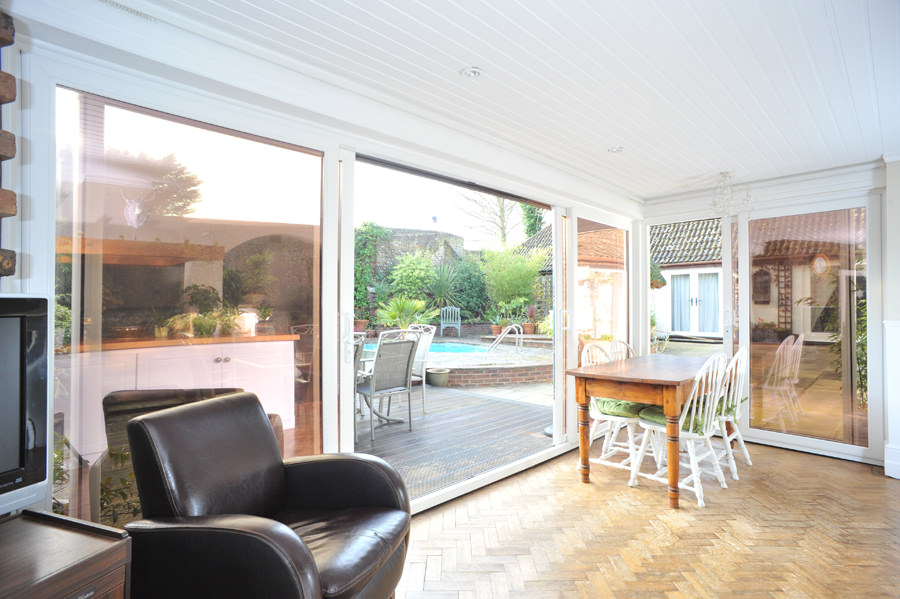 Smooth Operation
By opting for our aluminium sliding doors, you will be choosing an installation that will be sure to work for many years to come effortlessly. Due to the nature of aluminium, it is very lightweight. This means that you should have no issue opening and closing this installation. Better yet, it needs no space to open and close. You don't have to worry about hitting nearby items, allowing you to furnish as closely to this installation as you would like.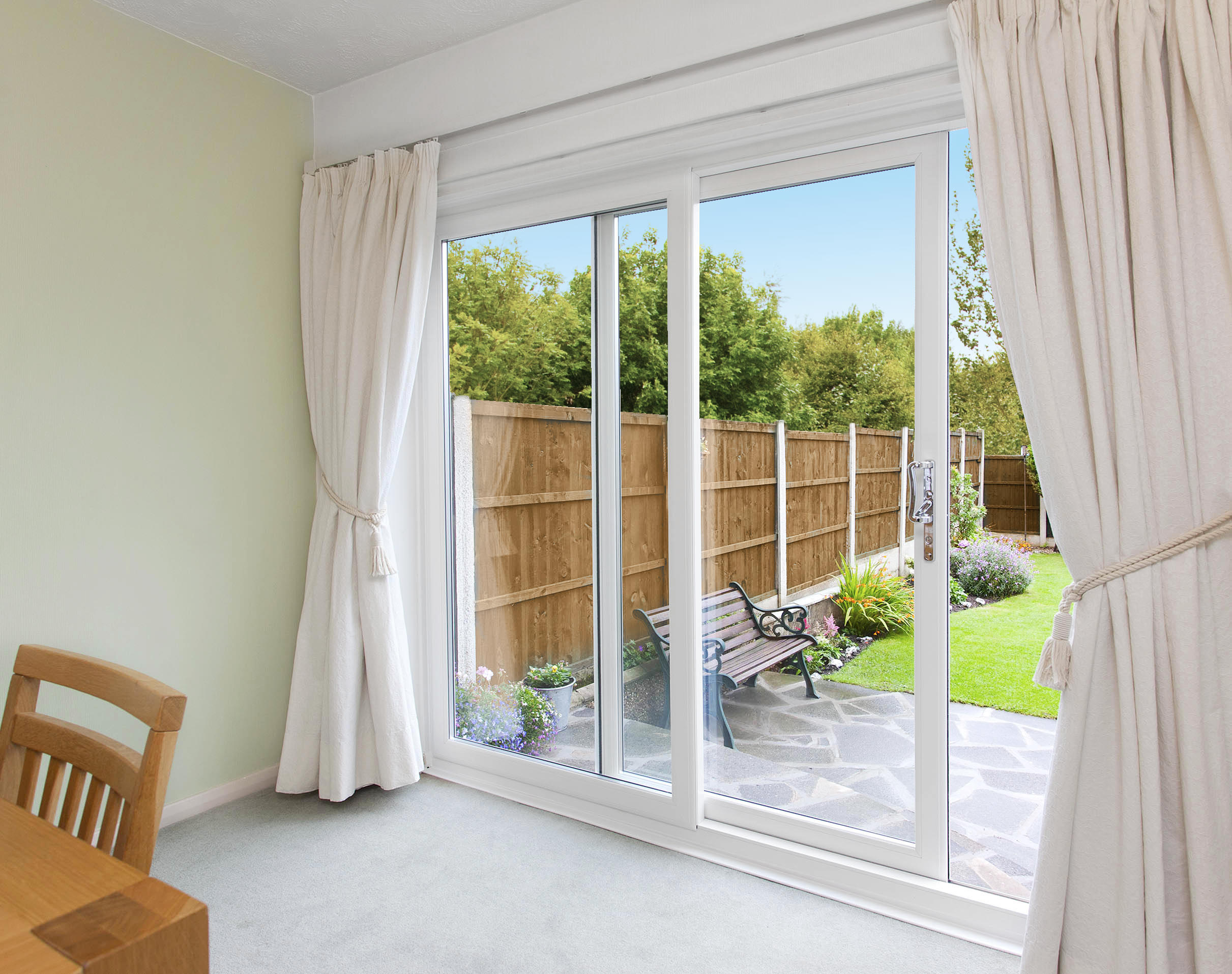 Thermally Efficient
Much like many of our other double glazing products, our aluminium sliding doors are ideal for keeping your home warmer for longer. This means that you don't have to have your heating on for as long to feel the effects. This also works to keep the heat out during the summer, so your house doesn't feel more like a greenhouse on those hot summer days. Get in touch for more information.
Customisable Aluminium Sliding Doors
Another fantastic feature of our aluminium sliding doors is the fact that you can get a bespoke design. From opening configuration to colour and even hardware options such as the handles, you will have the final decision on all the customisation options. Choose from over 150 RAL colours for the frames. This means that you can opt for a bold and bright colour that stands out from the crowd and perfectly contrasts the existing aesthetics of your home. Alternatively, you could pick a colour which quietly complements the design scheme you already have for your home.
Our aluminium sliding doors will be coated in a special powder finish which will ensure that the colour will not fade, peel, crack or discolour over time or when exposed to the elements. Get a truly bespoke aluminium sliding door for your home today.
Aluminium Sliding Doors Prices Richmond
By filling out our online contact form, one of our helpful and friendly team members will do everything in their power to get back to you as soon as possible. We are here to answer any and all questions you may have regarding our aluminium sliding doors.
Alternatively, you can get a free, online quote in a matter of minutes. This can be achieved through the use of our aluminium sliding doors cost calculator.
We hope to hear from you very soon!
---
Start Your Aluminium Sliding Doors Quote!
---