Garage Doors
Garage Doors
Here at Price-Rite, our aim is to produce the highest quality home improvement products for all of our customers throughout Hayes, Uxbridge and the surrounding areas. Our humble roots as a family-run business continue to influence our customer service process to this day, and we pride ourselves on our ability to deliver optimum quality products each and every time. That's why we're confident that you'll find the garage doors that perfectly suit your Greater London property. When you work with Price-Rite, you're working with the best in the business. Our dedication to quality production and customer service has led to our recognition within the commercial fenestration community, and has allowed us to partner with a number of household names in home improvement in order to bring you the best product available. Our capability has led to our registration with
FENSA
, the leading association brand that recognises and maintains quality fenestration services. We are also
TrustMark Trading Standards
approved, and are regularly assessed on our training practices, customer service and technical competence.
Benefits of Garage Doors
Unique & Personal Garage Doors
Here at Price-Rite, we understand that it is important to show off your personal taste and style as well as the aesthetic design of your home when it comes to purchasing garage doors. This particular type of door, more than any other, must operate at optimum efficiency at all times; however this doesn't have to come at the cost of style or design. We work with you to make absolutely certain that the product you get is the one that's right for you. Specifically, we offer a wide variety of unique colours for your new garage doors that allow you to properly customise your new home improvement project to your exact specifications. Furthermore, we utilise paint that offers 120 macrons rather than the standard 60, providing a more vibrant looking product. We are so confident in our quality finish in fact, that we offer a twelve-month guarantee on the timber exterior finish of your new garage doors.
Qualified & Professional Installation Teams
As a company that has been building a reputation like our own for the past thirty years, we have not only managed to work with some of the best installation teams in the business, but now attract the greatest tradesmen throughout the country to come and join our team. We offer a service that is not only efficient during the initial point of contact and planning stages, but also specifically tailored to maximise efficiency throughout the installation process. All of our installation teams are highly qualified tradesmen that are explicitly competent in their practised field. Furthermore, we understand the importance of experience as well as credentials, and that's why we make sure that all of our installation teams boast a wealth of hands-on experience when it comes to installing the best garage doors in the UK. We're so confident that we guarantee to install your garage doors within seven weeks of purchase.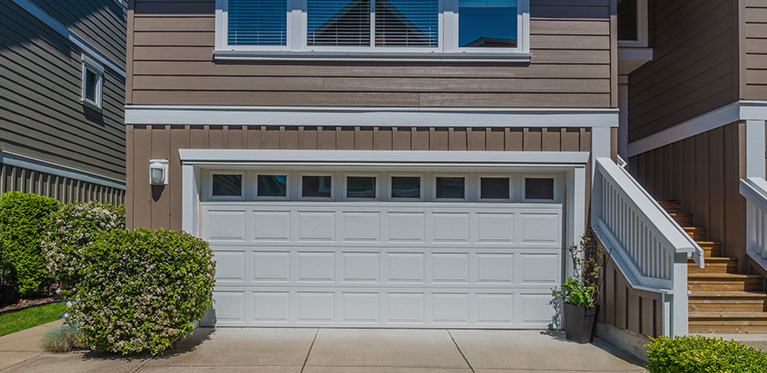 Safe & Secure Garage Doors
We are also product to offer some of the safest and most durable garage doors on the market in the UK today. All of our garage doors are manufactured using only the highest quality materials that boast natural resistance and durability. These innate characteristics are then bolstered via a state-of-the-art manufacturing process that reinforces the already durable product in order to craft a product that is so safe that you can relax. That's why we offer a ten-year guarantee on the materials and workmanship of our steel doors. These materials consist of steel and timber, two incredibly sturdy products that have been used in garage doors throughout the UK for a long time. Naturally durable as they are, our steel and timber products are also 0.6mm thicker than the industry standard 0.45mm. This adds a whole new and literal layer of security to your garage doors, and this is topped off by a four-point intricate locking mechanism that protects your home. We also offer a ten-year guarantee on the mechanics of your new garage doors themselves.
Energy Efficient & Eco-Friendly Garage Doors
We also understand that the contemporary customer is concerned with the environment, as we all should be! Here at Price-Rite, we want to do our part to help both you and the environment with our home improvement products, and that's why we utilise only the most eco-friendly materials and techniques available in the fenestration industry when we produce our garage doors. When you purchase products from Price-Rite, you purchase doors that are built for the future. Furthermore, all of our garage doors are specifically designed to perform at optimum effectiveness when it comes to thermal efficiency. Our products are built to retain heat where possible and to reduce the amount of cold that is able to push into your home. That way, you will notice a marked drop in your heating and energy bills since you lose the need to heat your home for the same length of time.  This reduces your carbon foot-print in turn!
Garage Doors Prices, Hayes
If you're looking for the perfect way to complete your garage or home improvement project, then get in contact with our specialist team today. Our highly qualified team of professionals will be more than happy to advise you regarding any queries you may have in your search for the perfect garage doors. We look forward to hearing from you.
Reviews
We highly reccommend Price-Rite for replacement window. Great price and a great service.
Ben Thomas
CEO - Private Customer
Accreditations